Kwik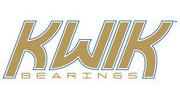 KwiK bearings are constructed of quality chrome steel races and have been proven to deliver a smooth roll time after time. The numbers is part of the ABEC bearing rating system and determines how much "roll" the bearing has. The higher the number, the longer it will take your wheel to stop spinning after you stop pushing.

When looking for a set of bearings be sure to consider the quality of the bearing components. Bearings consist of Races, Balls, Cages, and Shields. The main difference between quality bearings and cheap imitations is the material used for the bearing races. Chrome steel races are far superior to cheaper carbon steel races that tend to slow the bearings considerably when pressure is applied to them.

The new KwiK Swiss Nitride Bearing has been engineered to provide extra speed, strength, and durability for all types of skating while requiring minimum maintenance.

You should be out there enjoying your new bearings, not worrying about them!

Utilizing proven Swiss-Made hardened chromium steel alloy balls, the races of the KwiK Swiss Nitride bearings – the surface where friction is created with the alloy balls – are coated with an imperceptibly thin coating of Titanium Nitride to produce the fastest and longest roll available today. And you'll be able to relax and enjoy that roll right away because KwiK Swiss Nitride bearings come with XL1 Lube already applied for a bearing that is as easy to care for as it is to enjoy.

The introduction of the Titanium Nitride-coated KwiK Swiss Nitride Bearings is sure to revolutionize the roller skating world. Aside from the beautiful metallic gold appearance of the Titanium Nitride coating, this remarkable material will not chip, flake, or otherwise degrade during the roughest types of skating – after all, Nitride coating has been used for precision surgical devices and for numerous aerospace applications.
Kwik Roller Derby & Roller Skating
Unfortunately we don't have details for the Kwik website, but if you
Contact Us
here at the shop, we'll gladly give you details of any products you're trying to find.