Deadbolt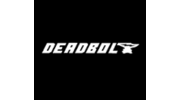 Innovation was the key for Deadbolt when designing their new product range. Knee pads that are designed to take the most brutal impacts and stay securely strapped to your leg giving protection to the end and with the all new Grand Slam pads that's exactly what you get! Even when you think you need new pads - the removable and interchangeable protection caps are a great feature.
Unfortunately we don't have details for the Deadbolt website, but if you
Contact Us
here at the shop, we'll gladly give you details of any products you're trying to find.