Adonis Wheels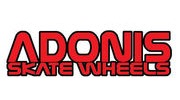 Wheels have stayed the same for long enough. Using engineering philosophy and practices transferred over from race car design, the skaters behind ADONIS are now employing a decade of experience within the high performance car industry to offer design technology to match the times. ADONIS has taken roller skate wheels to a new level, changing the way wheels are designed.

ADONIS skate wheels are now offering designs and concepts never implemented before. What seems like a simple idea can revolutionize the way a wheel fits, rolls and wears.
There are currently no products from Adonis Wheels in our site.
Please
Contact Us
for details of this range of products.
Unfortunately we don't have details for the Adonis Wheels website, but if you
Contact Us
here at the shop, we'll gladly give you details of any products you're trying to find.